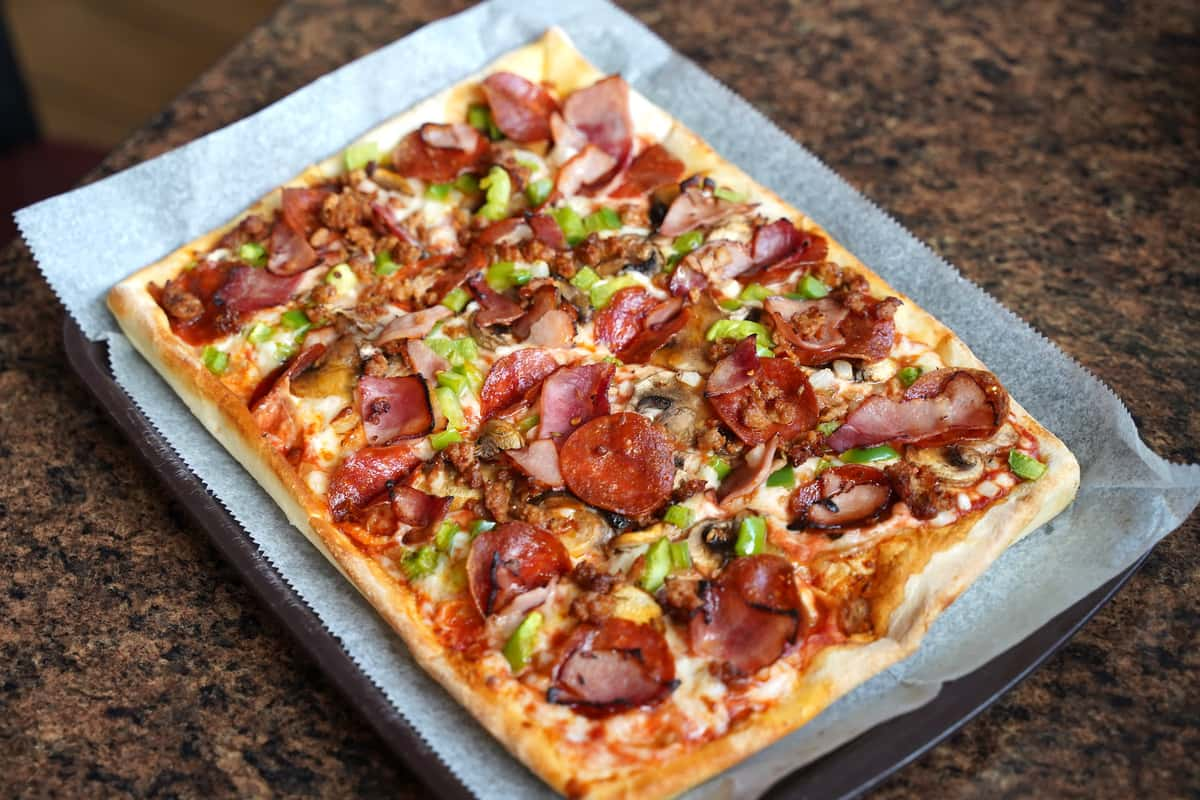 Menu
Become a VIP
Be the first to receive updates on exclusive events, secret menus, special offers/discounts, loyalty rewards & more!
Full Menu
MAIN MENU
YOUR FAMILY'S LOCAL ITALIAN TRADITION FOR OVER 45 YEARS

EAST SIDE | WEST SIDE | DOWNTOWN | FORT COLLINS
SALADS
Italian, Ranch, Citrus Vinaigrette, Balsamic Vinaigrette, Creamy Bleu Cheese, Caesar, Thousand Island, Honey Mustard, & Oil & Vinegar

Add Chicken +2.99 | Add Salmon +4.50
PASTA
Served with garlic bread. Full orders served with cup of soup or salad. Add soup or salad to a small order for 4.50
Substitute Gluten Free noodles for 2.50
FRIDAY & SATURDAY NIGHTS *
Available after 4pm on Friday & Saturday nights ONLY.
PANINOS
Served with your choice of pasta salad, potato salad, coleslaw or chips. Substitute a dinner salad or cup of soup for 3.50
Paninos are made on our famous, home made, white or whole wheat dough. Gluten Free dough available for 3.50.

ADD ON INGREDIENTS:
Pepperoni | Ground Beef | Bacon | Ham | Steak | Chicken Breast | Italian Sausage | Genoa | Salami | Turkey Breast | Cheddar Cheese | Swiss Cheese | Provolone Cheese | Ricotta Cheese | Bell Peppers | Pineapple | Refried Beans | Black Olives | Lettuce | Red Onions | Spinach | Broccoli | Mild Green Chilies | Diced Jalapenos | Garlic Puree | Yellow Onion | Fresh Cabbage | Mushrooms | Zucchini | Fresh Tomatoes | Pepperoncini

ADD ONS PRICING:
CHEESE 1.19 | MEATS 1.19 | VEGGIES .99
PIZZA & CALZONES
Pizzas & calzones served with mozzarella cheese.
Calzones come with creamy ricotta & marinara sauce.

ADD ON INGREDIENTS:
Pepperoni | Ground Beef | Bacon | Ham | Steak | Chicken Breast | Italian Sausage | Genoa | Salami | Turkey Breast | Cheddar Cheese | Swiss Cheese | Provolone Cheese | Ricotta Cheese | Bell Peppers | Pineapple | Refried Beans | Black Olives | Lettuce | Red Onions | Spinach | Broccoli | Mild Green Chilies | Diced Jalapenos | Garlic Puree | Yellow Onion | Fresh Cabbage | Mushrooms | Zucchini | Fresh Tomatoes | Pepperoncini

SIDES:
Sour Cream 0.99 | Ranch 0.99 | Marinara 0.99 | Green Chili 2.99 | Alfredo 2.99 | Pesto 2.99 | 2 Meatballs 2.99 | 2 Italian Sausage Links 2.99

ADD ONS PRICING:
SMALL PIZZA: CHEESE 1.29 | MEATs 1.29 | VEGGIES .99
MEDIUM PIZZA: CHEESE 2.09 | MEATS 2.09 | VEGGIES 1.75
LARGE PIZZA: CHEESE 3.09 | MEATS 3.09 | VEGGIES 2.89
CALZONE: CHEESE 1.19 | MEATS 1.19 | VEGGIES .99

Thick crust pizza available in all sizes .89 | 1.39 | 2.39
Gluten free crust available for Medium Pizza - 3.50
No free substitutions on pizzas
WEEKLY SPECIALS
STARTING AT 5PM